SANNA MUHAMMAD CASE
---
See News Story
See News Story
See News Story
See News Story
See News Story
See News Story
See News Story
See News Story
See News Story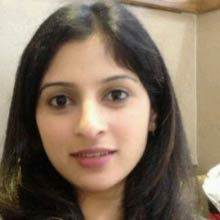 Victim · Sanna Muhammad
Killer · Ramanodge Unmathallagadoo
Image – credit: Metropolitan Police
This was a truly shocking case which made headlines around the world due to its brutally callous nature and the level of meticulous planning the perpetrator had conducted. He had literally planned for years how he would murder his former wife.
On the morning of 12th November 2018, Sanna Muhammad, a mother of 5 and heavily pregnant with her sixth child, was at her family home in Ilford, East London. As her children prepared for school and as Sanna was washing up in the kitchen, her new husband, Imtiaz Muhammad, went to the shed at the bottom of their garden to store a cardboard box to make room in the house for a dinner party they were hosting later that evening.
Up to that point this was just a normal day for a normal family in a London suburb. That was all about to change in the most shocking and unimaginable way.
As he opened the door of the garden shed, Imtiaz was confronted by Sanna's former husband, Ramanodge Unmathallagadoo, as he hid in the shed holding two loaded crossbows pointed right at him.
Struck by sheer terror, Imtiaz ran back into the house and continued out into the street, pursued by Unmathallagadoo brandishing the lethal weapons. But once inside the house Unmathallagadoo turned his evil attention towards his former wife.
In a desperate attempt to flee her former husband, Sanna ran screaming to the top of the stairs. Unmathallagadoo stood at the foot of the stairs, coldly took aim and shot her with the crossbow which penetrated her body from her upper thigh and went through her upper body completely piercing her vital internal organs. This evil killer had struck a fatal blow.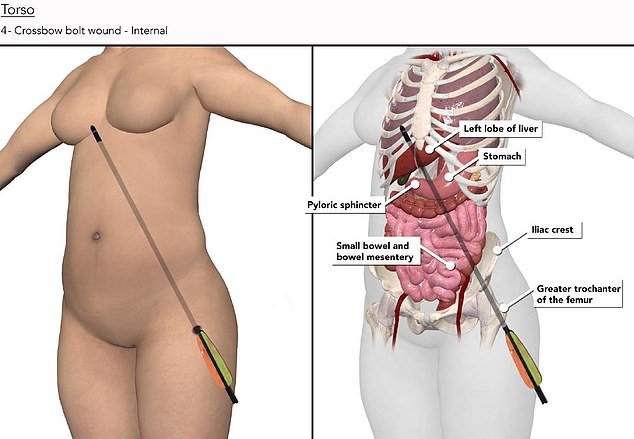 Image – credit: Metropolitan Police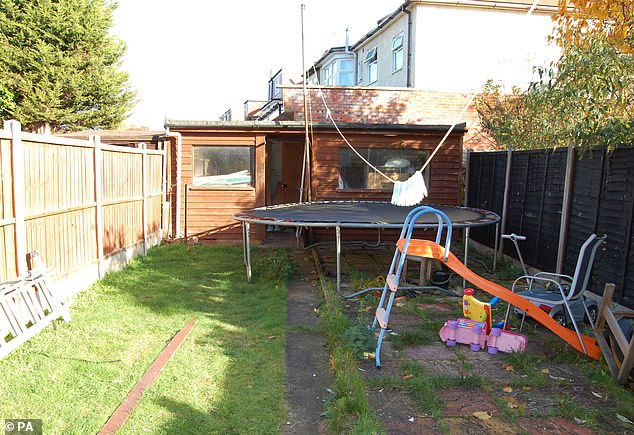 Image – credit: Metropolitan Police
Sana Muhammad was pronounced dead upon her arrival at hospital. Incredibly the crossbow bolt had very narrowly missed the unborn baby who miraculously survived having been delivered by emergency c-section.
Gary took immediate charge of this homicide case.
Umathallagadoo had been arrested at the scene. The murder weapon had been recovered along with the second crossbow. Gary obtained witness accounts from all the family members which clearly implicated Unmathallagadoo as the suspect.
On the face of it whilst the evidence appeared to be potentially straight forward in this case, Gary knew all too well that Unmathallagadoo could claim that although the weapon had been discharged, it may have gone off by accident and he could also argue that he was just there to 'scare' them, with no intention to seriously hurt or kill anyone.
If such an account were to be accepted by a jury then he would be acquitted of the murder.
Equally, Gary was cognisant of the fact that Unmathallagadoo could claim that he had been suffering from diminished responsibility at the time of the murder if he could convince a jury that he had been suffering from an 'abnormality of the mind' at the time he had killed his former wife.
Once again, if this account were to be accepted by a jury he would be acquitted of murder.
With this in the forefront of his mind and with Unmathallagadoo refusing to answer all questions during his suspect interview, Gary set about pursuing an investigative strategy which would go back many years and delve deeply into the lives of both victim and suspect to truly uncover and expose the malice Unmathallagadoo harboured against his former wife.
By doing this, Gary knew that this would then prove that the discharge of the crossbow bolt into the body of Sana Muhammad had been no accident. It would also prove that Unmathallagadoo had been in possession of all his mental faculties and had carefully planned this horrific murder down to every last detail.
To prove that the crossbow had not been discharged by 'accident' or 'mistake', Gary arranged for a ballistic analysis of the murder weapon itself. In a forensic laboratory the crossbow was loaded and discharged by a ballistics expert. Gary had this process video-recorded. This would later be presented in evidence at trial. It would prove how loading and 'arming' the crossbow so that it was ready to fire was a very deliberate and positive action. This was not something that could be done by 'accident'.
It would also prove that a significant degree of force would have to be applied on the trigger in order to discharge the crossbow bolt. There was no possibility that the crossbow could have been fired 'accidently' due to a 'hair' trigger.
Gary found that the couple had divorced in 2012 after Unmathallagadoo had attacked Sana, during which she actually leapt out of an upstairs window to escape him, breaking her ankle.
Unmathallagadoo had been prosecuted but acquitted of assaulting Sana.
Gary's investigation incredibly uncovered an intricate plot to murder Sana which had actually began 3 years earlier. Unmathallagadoo had begun stalking his former wife and had actually placed her under surveillance.
Unmathallagadoo had become obsessed with his former wife since their divorce and hatred festered within him.
He had acquired a collection of lethal weapons, including shark harpoons. Gary even proved that he had tried to rent properties with areas where he could conduct target-practice which were not overlooked by neighbours.
Even after his first cache of weapons had been discovered by police after being found by a concerned member of the public, Unmathallagadoo simply went back to the drawing board and methodically began replenishing his armoury of weapons, including the purchase of the crossbows.
He also invested in telescopic ladders which he would later use in order to scale the fences of neighbouring gardens to hide in the victim's garden shed in his final preparations to launch his murderous assault.
Unmathallagadoo also purchased a 'crank' device which would allow him to reload his crossbows quicker and with greater ease.
Due to the amount and weight of the weapons he carried to the shed, Unmathallagadoo waited for the cover of darkness and had to repeat the trip several times.
As he lay in wait to launch his murderous attack, Unmathallagadoo also had with him a knife, cable ties, scissors, duct tape and enough crossbow bolts to kill everyone in the house. These were all recovered during a thorough search of the garden shed and the entire crime scene.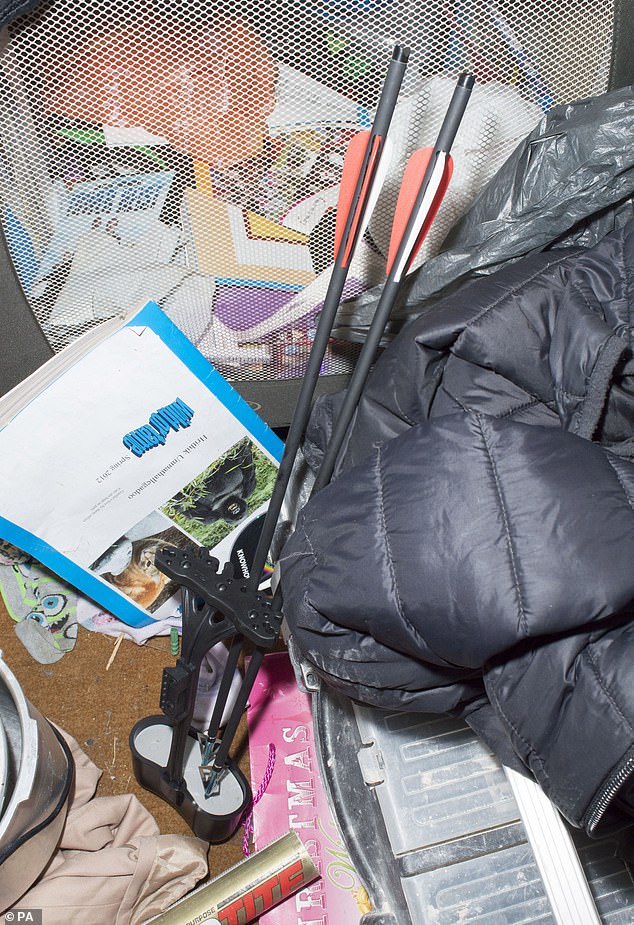 Image – credit: Metropolitan Police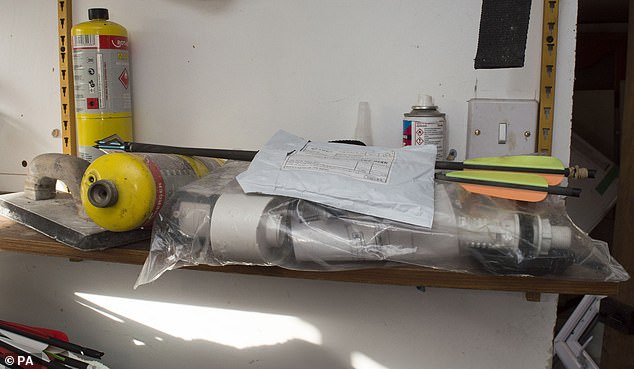 Image – credit: Metropolitan Police
In November, 2019, Ramanodge Unmathallagadoo denied murdering his former wife during his trial at the Old Bailey.
As Gary had anticipated, Unmathallagadoo claimed that whilst he had hidden in the garden shed armed with the crossbows, he had never intended to seriously harm or kill anyone but instead had gone there to confront Sana's new husband about the way in which he was raising his own daughter. He claimed that the crossbow had been unintentionally discharged and that he had not intended to kill his former wife.
Umathallagadoo's obsessive and evil plot to kill his wife was presented to the jury. It proved to be compelling evidence.
The jury rejected his story and he was convicted of the murder of Sana Muhammad.
On the 29th, November, 2019 Ramananodge Unmathallagadoo was sentenced to life imprisonment for this terrible and callous murder.